TOP 12 APPLICATION CRITERIA FOR BRAKES & CLUTCHES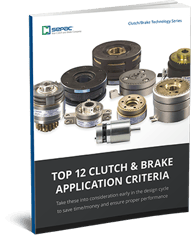 When determining the right clutch or brake for your application, there are various application criteria that must be considered to ensure the proper selection. Among others, the following three criteria are essential to the overall success of the application:
Determining the function required for the application
Determine rotating inertial load
How to determine response time
In order to simplify your selection process, we have developed a guide that includes the Top 12 application criteria to consider when choosing a clutch or brake for your next design.
Simply fill out the form to download your copy!
Our engineering department is available to determine whether certain modifications can be made to an existing product design, or if an entirely new product can be created. Please consult SEPAC engineering prior to making a final selection.