SWITCHING HYDRAULIC TO ELECTROMECHANICAL ACTUATION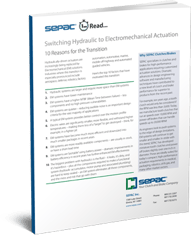 In our efforts to seek new ways to deliver value to our customers, our team has been diligent in their goal to identify trends across numerous industries and applications that have traditionally utilized Hydraulic actuation. It is through these very efforts, that we have determined 10 primary factors that are now influencing the rapid transition from Hydraulic to Electromechanical Actuation.
This short list was created to help you determine if Electromechanical (EM) solutions may be the more practical and efficient solution for your next project.
Simply fill out the form to download your copy!
Our engineering department is available to discuss your specific application requirements to ensure the right solution to meet your needs. Please consult SEPAC engineering to learn more and prior to making a final selection.