SPRING ENGAGED BRAKES & BACKLASH: UNDERSTANDING SAFETY/POWER-OFF/FAIL-SAFE BRAKES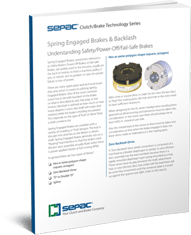 Here at SEPAC, our team is committed to providing the right product to meet our customers needs. Our engineering department regularly modifies product designs in our existing catalog and will develop new products from the ground up to fit your unique application requirements.
Simply fill out the form below to download your copy of our guide, "Spring Engaged Brakes & Backlash: Understanding Safety/Power-Off/Fail-Safe Brakes"
Keep in mind, that our engineering department is available to determine whether certain modifications can be made to an existing product design, or if an entirely new product can be created. Please consult SEPAC engineering prior to making a final selection.