SETB INstallation Guide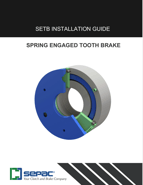 The SEPAC stationary field spring engaged tooth brake is designed to operate both dry and in oil. It can be piloted either on the outside diameter or magnet body bore.
This eBook includes installation instructions for the SEPAC Inc. Spring Engaged Tooth Brake.
Simply fill out the form to download your copy!