SECC INSTALLATION GUIDE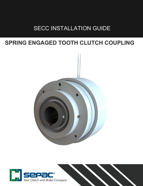 The SEPAC Spring Engaged Tooth Clutch Coupling is designed to operate both dry and in oil. It features a sleeve and output hub which simplifies installation as compared to other models.
This eBook includes installation instructions for the SEPAC Inc. Electromagnetic Tooth Clutch: SECC Spring Engaged Tooth.
Simply fill out the form to download your copy!