AN ELECTROMAGNETIC ACTUATOR SOLUTION FOR FIRE & RESCUE APPLICATIONS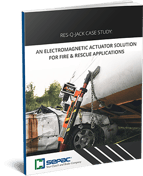 Res-Q-Jack, a New York based developer and manufacturer of industry leading vehicle stabilization lifting struts approached SEPAC with a unique challenge; the creation of a new automated lifting solution with fail safe capabilities that would provide consistent operating speeds without sacrificing user safety. In this eBook you will find:
How SEPAC engineers approached the original product design
The initial prototyping stages
How SEPAC turned concept to reality with the creation of the
Alpha Drive System Actuator
This detail provided in this case study presents the problem solving capabilities of SEPAC's design engineers to identify the situational challenges for a client and tailor a custom solution to meet their requirements.
Simply fill out the form to download your copy and learn how SEPAC can turn your concept into reality today!
Our engineering department is available to determine whether certain modifications can be made to an existing product design, or if an entirely new product can be created. Please
contact
SEPAC engineering prior to making a final selection.