MSEB INSTALLATION GUIDE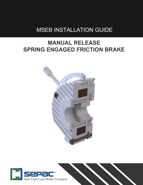 The SEPAC manual release spring engaged brake is electromagnetically released and provides torque in the absence of power. The release handle provides the ability to disengage the brake in the absence of power allowing the shaft to rotate manually.
This eBook includes installation instructions for the SEPAC Inc. Manual Release Spring Engaged Brake.
Simply fill out the form to download your copy!