USING ELECTROMAGNETIC BRAKES TO KEEP THRUST REVERSERS IN PLACE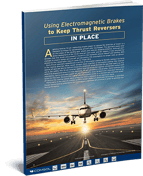 Applying reverse thrust redirecting engine power to oppose the direction of travel is a standard technique for decelerating aircraft after touchdown. The approach saves wear on the brakes of the landing gear wheels and reduces stopping distance. In this eBook, you will learn about Using Electromagnetic Brakes to Keep Thrust Reversers IN PLACE.
Simply fill out the form to download your copy and learn how SEPAC can turn your concept into reality today!
Our engineering department is available to determine whether certain modifications can be made to an existing product design, or if an entirely new product can be created. Please
contact
SEPAC engineering prior to making a final selection.