CHOOSING THE RIGHT BRAKE FOR MEDICAL ROBOTIC APPLICATIONS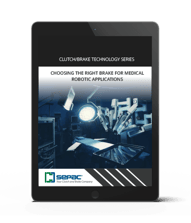 Medical robots play an essential role in manufacturing, from assembly, to pick-and-place, to packaging. One of the major risks of robotics — and what OEMs seek to mitigate — is uncontrolled or non-commanded motion by a robot. Most electric robots today incorporate servomotors for direct-drive operation.
This approach largely eliminates the need for clutches, but robots still need brakes, both to apply holding torque once the motor moving the joint has stopped, and to provide dynamic stopping in the event of emergency.
This eBook includes information on how to choose the right brake for your robotic applications.
Simply fill out the form to download your copy!